Crystal Ball
Universal Analytics (UA) And Google Analytics 4 (GA4): Why You need GAannotations
Updated: Dec 20, 2021
Introduction
Google Analytics is not new in the world of marketing and Search Engine Optimization (SEO). Google Analytics is a free web tool developed by Google to provide users with all statistics and analytical tools for marketing and SEO purposes. Interestingly, Google makes this web tool freely accessible to anyone who has a Google account. It should be noted that the Google Analytics service is part of the Google Marketing Platform. With the way the world operates now, it will be extremely difficult for businesses that do not leverage Google Analytics to survive in the market.
It might interest you to know that as of 2019, Google Analytics has become the most used web analytics tool on the web. The tool provides Software Development Kit (SDK) that helps users to gather usage data from apps on Android and iOS devices. However, you should note that people can block Google Analytics through firewalls, browsers, browser extensions, or other available means. From its inception, Google Analytics has been developed into many versions with different improvements and enhancements. Its current version, which is the 4th, is Google Analytics 4 or GA 4. Google Analytics 4 is the improved and renamed version of the App + Web Property released in a Beta form by Google in 2019. As you will see in the post, the new Google Analytics 4 offers improved features that show that Google is making marketing simpler every day.
Before digging into the two of Google's popular analytical tools, it is essential to touch on the general idea of Google Analytics. What does it generally do, and how has it been helping users and businesses? By studying the general features of Google Analytics, you can understand the variations between the different versions. Generally, users use Google Analytics to track the activities and performance of their websites and collect data and insights about the visitors. This means Google Analytics tracks activities like pages per session, bounce rate, and durations of everyone that uses the site. Businesses can use Google Analytics to monitor and record the performance of their marketing activities. With that, they can measure their marketing and campaign success. The information they gather on visitors and clients will also give them insights into improving client experience and making informed decisions.
Some of the features of Google Analytics include data visualization and monitoring tools, data filtering and funnel analysis, segmentation, custom reporting, data collection Application Program Interfaces (APIs), integration feature, and a host of others. The way Google Analytics works is easy as opposed to what many believe. Although setting it up might be tricky, once you do, you will enjoy tons of invaluable information. You will have information and reporting data on every visitor you have on your website, even if there are millions of them. And with Google Analytics, you can never lose track of any.
Universal Analytics (UA) And Google Analytics 4 (GA4)
As we said, Google Analytics has come in different versions. These versions have additional features and improved functions that make them different from one another. However, this does not include the general functions that Google Analytics originally performs. Of course, all these Google Analytics versions work toward the same goal and objectives. But part of their differences is the degree to which each operates and the level of performance.
Nonetheless, all the versions that have been created so far have done great jobs with marketing. But two versions stand out. They are the Universal Analytics (UA) and Google Analytics 4 (GA4).
Google Analytics 4 is the latest version of Google Analytics, coming after Universal Analytics. These two can be for both business and personal use. While Google Analytics generally is free and easy to use, these two are easy to operate. Perhaps the reason for this advantage is due to the conclusion that every business owner, marketer, or blogger, whether small and big, will need Google Analytics. So Google does not only make it free and accessible to all Google accounts but operating it is also convenient.
This post will examine the two Google Analytics versions and their distinct features in the subsequent part of this post. We will also tell you how you can use GAannotations to improve their operations, particularly Google Analytics 4. We will focus more on annotations as we understand the importance of that feature in Google Analytics. Google Analytics annotations feature is often forgotten. However, when you use it properly, it will save you a lot of time trying to figure out why there are changes in your report at different times. We hope you will make use of GAannotations to get the best out of Google Analytics annotations.
About Universal Analytics
In the fall of 2012, Google announced Universal Analytics, a version of Google Analytics. This tracking code for this version has completely been overhauled, and it came with a lot of back-end improvements. So what is Universal Analytics, and how does it work compared to Google Analytics 4?
If you are familiar with the way Universal Analytics operates, you will agree that the analytics toolsets completely new tracking codes for websites. Additionally, Universal Analytics also comes with features that help marketers accurately measure customer and client behavior. One distinct feature of Universal Analytics is its improved standard in collecting and organizing data. Universal Analytics offers an elaborate breakdown of client data that gives the marketer deep insights into customer behavior and preferences. Here are some of the features of the Universal Analytics tool.
· Three Tracking Codes
Following the operation of Universal Analytics, it has become obvious to every marketer that Universal Analytics has three new tracking codes compared to other analytics tools. These new tracking codes help marketers gather more information and useful data about visitors and audiences. The first code is Analytics.js which is the code that measures the interactions between visitors and your websites. Google Analytics SDKs is another code that handles mobile tracking. The third of these codes is the Measurement Protocol which helps marketers collect data from other devices, including game consoles.
· Improved User ID Generation
Before developing Universal Analytics, if a visitor visits a website using multiple browsers and devices, Google Analytics will record the user as multiple users. This created an accuracy problem for marketers. With Universal Analytics, it monitors and reports such activities as coming from the same person. Universal Analytics assesses visitor count and records signed-in user experience more accurately.
· Offline Data Collection For Better Insights
Universal Analytics helps marketers generate offline data. The tool's Application Protocol Interface tracks outside sources, which include call centers and lead generation systems. With this, marketers can get a better picture of customers' preferences by collecting offline data.
· Customized Metrics Through E-commerce
Universal Analytics also offers customization features, including the ability to collect and record data connected to your business and business goals. Marketers can also tag plugins with advanced eCommerce features to access reports and insights on their internal and external advertising.
Universal Analytics comes with plenty of freedom. Users and marketers can configure their accounts. They can remove referral sources and domains from the referral source report to prevent duplication of a session. Universal Analytics also modifies the organic searches that mention you. Generally, Universal Analytics can help every user and marketer to adjust their reporting to be more business-focused and customer-focused. It helps marketers combine online and offline data to study customers. Universal Analytics works great, and you do not have to worry about missing any important data from your reporting.
The New Google Analytics 4 (GA4)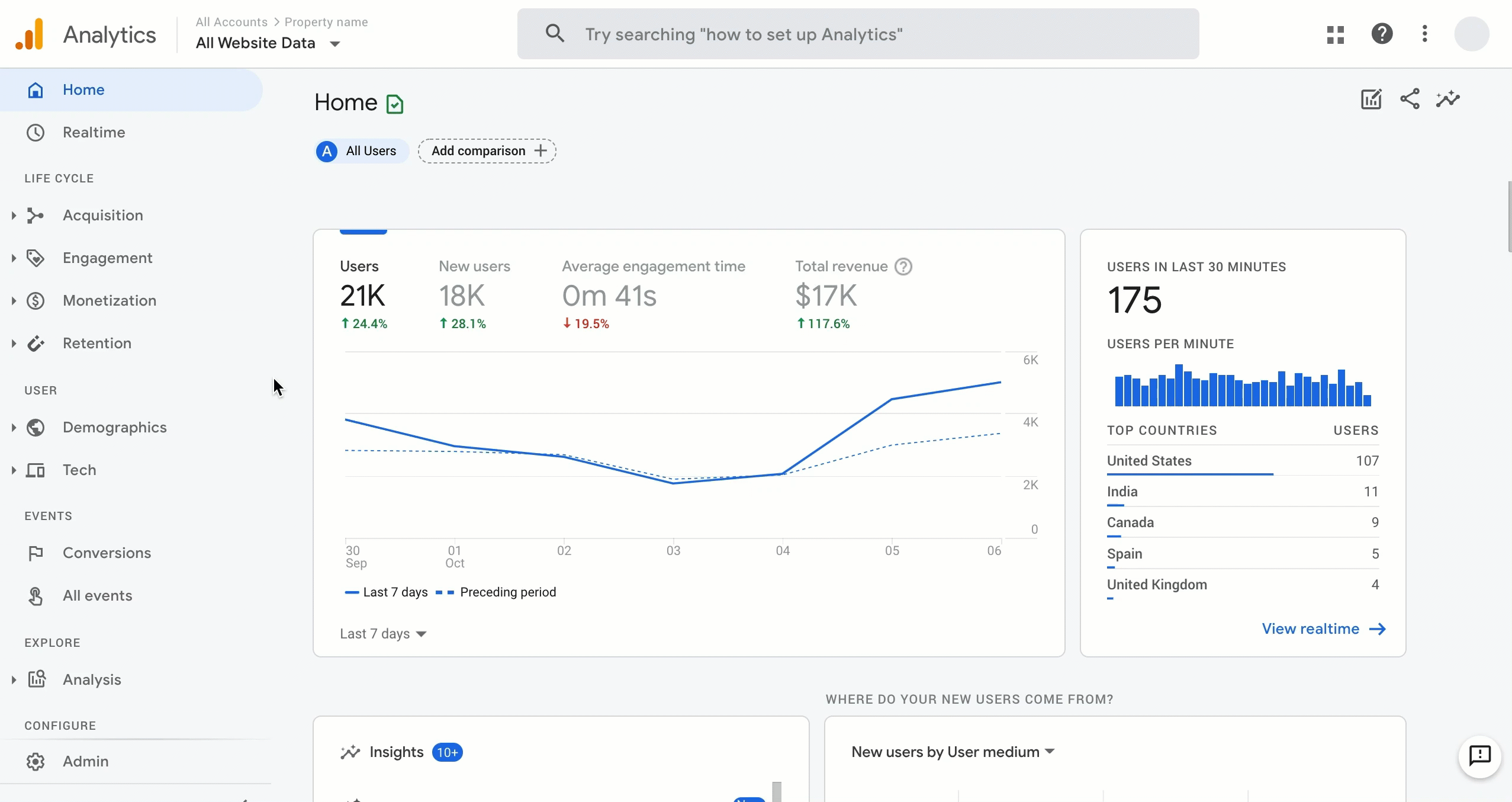 Those who know the crucial importance of Analytics will agree that using the tool for their business is a must-do. A huge number of organizations, whether big or small, depend on Google Analytics to comprehend customers' preferences and to be able to create a better business experience for them. This is to say that businesses are now beginning to recognize the importance of creating personalized customer relationships and preferences to serve clients better. Millions of businesses and organizations are moving online to achieve a better and optimized client and customer service experience. And since they will be spending a huge chunk of money on marketing to a wider audience and setting up a better business experience, digital analytics tools become more essential.
However, despite the previously available analytics tools, some new trends and development are emerging that point to the reality that the current analytics tools may be outdated. For instance, over the years, there have been significant changes in consumer behavior and privacy policies. As a result, they are bound to affect industry guidelines and standards, making current tools slow and ineffective. According to a survey conducted by Forrester Consulting, reports show that marketing firms and marketers prioritize the improvement of their analytics tools. One of the reasons for this is that their current solutions do not give them complete data on their customer, making it difficult to derive better insights.
Due to the above-listed factors, Google rolled out Google Analytics 4. This Google Analytics is more intelligent and is established on the foundation of the App + Web property presented in beta recently. The new version has improved features that make it evolves beyond Universal Analytics. Below are some of the features of the rebranded App + Web Analytics tool.
· New And Better Layout
Those used to the previous Google Analytics, especially Universal Analytics, are in for a huge shock when they open up the Google Analytics 4 account. The layout of the previous Google Analytics tool has been altered and completely improved in Google Analytics 4. The structure and the way you navigate have changed. You will see many sections have been renamed and restructured. Nonetheless, these alterations focused more on visitors, audiences and tracked reports of events and activities that happen on your website. Also, some additional metrics have been automatically included in the data tables.
· Better Audience Integration And Configuration
With Google Analytics 4, users can build, coordinate, and maintain their contacts. This means you can focus on particular sections of users by building custom audiences. This helps you combine standard reporting well with your remarketing. For instance, you can set up member duration, time constraints, and more. GA 4 can help you distinguish between visitors from the audience across the web. For instance, if a client performs any of the required actions, he can move from the visitors to the audience list. Google Analytics 4 will automatically update the list so that the client is removed from being a recipient of retargeted ads or remarketing.
· Event-Tracking Feature
This is a very useful feature of Google Analytics 4. Many users and marketers can get tired of setting up custom event tracking every time. Another thing is that Google Analytics did not track basic interactions like scrolling or clicking on PDF, making report generation a bit inaccurate. With Google Analytics 4, users can do this without adding event tracking or adding any custom tracking codes using Google Tag Manager. This automatic event-tracking feature makes it easier and more convenient for marketers to keep track of and measure on-site and in-app actions and events that matter in real-time. All you have to do is ensure the Enhanced Measurement feature is on.
· Improved Reporting Features
Another brand new feature that comes with Google Analytics 4 is the "Analysis" section. This is an improved feature built on the dated Custom Reports in Universal Analytics. In Google Analytics 4, you can create custom reports using existing templates, while you can also drag-and-drop dimensions, metrics, and segments into data without breaking a sweat. As a result, you can dig into different aspects of the customer journey to get useful insights. So generally, you can get a complete view of how customers engage your website from various devices. Google Analytics helps you gather all useful reports surrounding the visitors and audience.
The thing about Google Analytics 4 is that it helps marketers make close predictions. This is because it delivers reports and useful information and data about the customer lifecycle with optimized predictive features. Marketers thus get more information and insights. Google Analytics 4 properties help marketers get wide reporting and deep analysis for both mobile apps and websites. With event-based tracking and ad-hoc reports, you will understand your audience better.
Additionally, Google Analytics 4 helps marketers and advertisers comply with data regulations like CCPA and GDPR with designed consent mode and data deletion capabilities. By default, Google Analytics 4 is enabled as you set up a new property. However, the Universal Analytics feature is also available. This is because it might take time to adapt to the new Google Analytics and can fully transfer. GAannotations recommends that you leverage Google Analytics 4 as future upgrades and investments will be on GA 4.
The Modifications Between The Two
· Fundamental Difference In Events
This is one of the clear differences between Universal Analytics and Google Analytics 4. In the Universal Analysis event, there is Category, Action, and Label, with each having its own hit type. This is not so in Google Analytics 4, where all these are not on display. Every "hit" is recognized as an event without distinction. Events in GA 4 are in four categories: automatically collected events, custom events, collected events, and enhanced measurement events.
· Sessions Reporting
A session is the series of interactions with your website within a particular period. A session in Universal Analytics usually tags events, social interactions, eCommerce transactions, and multiple page views. This reporting depends on the manual input of an interactive event. The maximum timeframe for a session is 30 minutes, and it will end upon inactivity after that period or with a reset event. Google Analytics 4 uses automation instead. It calculates a session using the duration between the first and last event. Since Google Analytics 4 uses automation, you will save much time uploading events and counting sessions.
· Privacy And Consent Mode
Google takes privacy and consent very seriously. Due to the privacy of data, there are now stronger regulations like CCPA and GDPR. However, with the regulations, many businesses lose useful data. For instance, clients' data are wiped immediately they decide to opt out of tracking from the websites. Google Analytics 4 operates with a designed consent mode and data deletion capabilities. This ensures compliance with data regulations while also giving the businesses the chance to retain some data. For instance, there is still some level of tracking. This does not identify or target users. But it gives you the chance to continue sending content and reporting conversions.
· Fake Data And Spam Control
Universal Analytics does not have enough protection against spam referrals. This makes data accuracy a bit of a problem since it is easy for other web users to send loads of spam data to your Google Analytics property using the Measurement Protocol. The good news is that there is nothing like that Google Analytics 4. It is extremely difficult, if not impossible, to invade the Google Analytics property of any user. The GA 4 forces Measurement Protocol hits that have a secret key for data protection. This secret key is only seen in the web data stream settings of GA 4 and not visible publicly. Therefore, the Google Analytics 4 properties cannot accept any Measurement Protocol containing the secret API key.
· Device And Platform Tracking
Tracking has improved greatly with Google Analytics 4. It is App + web-based, and that gives way for marketers to track visitors across websites and mobile apps. The reason is to report useful information for marketers automatically. In other words, Google Analytics 4 cross-device and cross-platform tracking is more reliable and detailed compared to Universal Analytics.
The above are some of the major modifications that show the fundamental differences between Universal Analytics and Google Analytics 4. It is essential to note that these two versions of Google Analytics have a track record of delivering reliable and accurate clients' data. They are also essential tools every marketer needs to monitor their marketing. However, Google Analytics 4 currently works better than Universal Analytics due to the upgrades and improvements. Indeed, users may not adapt to Google Analytics 4 operations quickly due to the alterations. But eventually, they will find their way around it and experience what it offers in the world of digital marketing.
How GAannotations Handles Annotations In GA4
Annotation is one of the least discussed Google Analytics features. However, it is an extremely important and valuable function for every marketer. Annotations are a tool that helps you stay aware of every circumstance that may influence your marketing. They help you keep track of your Google Analytics through shared or private notes on the graph. Do you know that a simple annotation on the over-time graph can save hours of overthinking and frustration from figuring things out? Here is a list of the benefits of annotations.
· Annotations increase your problem-solving speed and save you time.
· They help you provide answers to the most critical questions and share crucial business knowledge.
· Annotations make it easy to understand the data.
· Annotations help you remember and keep track of events and circumstances.
· They help the team members.
Annotations have a great influence on your data and marketing decisions. In other words, they can positively or negatively affect you and your business. Google Analytics helps you annotate events on your data. Events such as marketing campaigns, new code deployments, Google algorithm updates, public holidays, completions activity, website outages, content changes, policy updates, and general news are what you may need to keep track of. Adding annotations is simple as Google Analytics keeps the feature visible on your data. You can find the function either on your reports or admin section.
Recently, questions like "where are the annotations in GA4?" and "how do I add annotations in Google Analytics 4" have filled the net as many marketers are yet to find the feature on GA 4. Well, it is true. Google Analytics removed the annotations function from the new Google Analytics 4, making it impossible for marketers to annotate their data on the new Google Analytics version. In other words, despite the upgrades and improvements that users and marketers enjoy from Google Analytics 4, the absence of annotations feature deals a huge blow. The unavailability of Annotations API adds salts to injury. It becomes more difficult for marketers who habitually use the annotations in Universal Analytics to keep track of events in Google Analytics 4.
How To Add Annotations In GA4
GAannotations is currently the only solution to the problem of annotations in Google Analytics 4. Everything you need on Google Analytics annotations is now available on GAannotations. You do not need to worry about missing out on crucial periods or events on your graph. So how does GAannotations help users with annotations on the new Google Analytics 4?
Create your new account on GAannotations. Log in to enjoy for free. The navigations are easy, and you cannot miss out on any feature that you need. Once you are in, you can add annotations directly using the "Add Annotation" feature on the dashboard. There are also other functions like API keys, Integrations, CSV upload, and Data Source. All these make GAannotations your all-in-one place for Google Analytics 4.
You can also add annotations on GAannotations for Google Analytics 4 to export your current annotations from Universal Analytics. Export and upload the CSV to GAannotations using the "CSV Upload" function. This helps you keep your previous annotations without losing any data. You can use GAannotations for free. There are also premium features available but will require a premium subscription.
Additionally, you can integrate GAannotations with tools users and marketers already use. Add automated data sources like website blackouts, press releases, holidays, etc. GAannotations have been developed and optimized to work with both Universal Analytics and Google Analytics 4, particularly the latter. With GAannotations, you do not need to keep your hopes up about Google dropping annotations function on GA 4. You have more than you need on GAannotations.
Conclusion
GAannotations offers a user-friendly Google Analytics annotations feature that gives you the chance to use annotations in the web analytics report. It is also suitable for Google Analytics 4 (GA4), making it the best solution for annotations in the new Google Analytics tool. Understand that it can be difficult to remember events by just looking at Google Analytics data in Google Analytics 4. Since every marketer moves from Universal Analytics to Google Analytics, it would be best to know how to include annotations in GA 4, which originally does not have the feature. Your best and only guess is GAannotations.com.